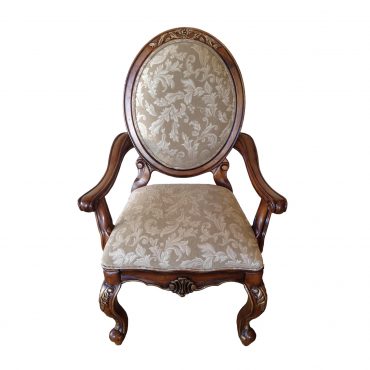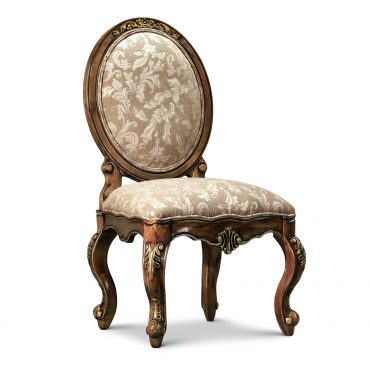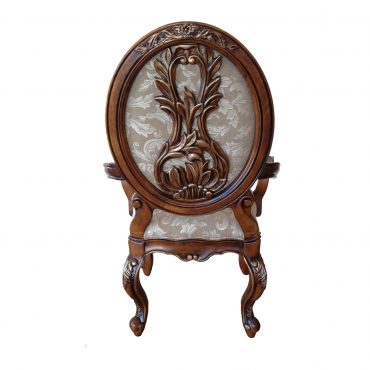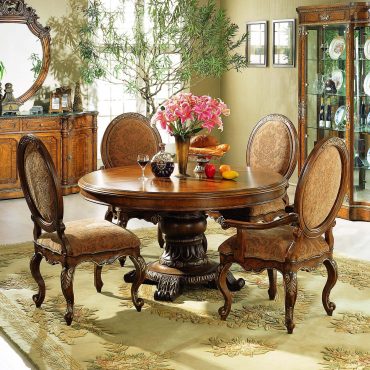 Tapestry Arm / Side Chair
Tapestry arm / side chair in Mahogany finish (sold separately).  Chair features oval design and exquisitely constructed from solid wood with hand-carved details throughout.  Chair upholstered in high-grade European fabric for a luxurious living room.
Arm and side chair available in No. 1 fabric only.
Collection: Tapestry
Finish: Mahogany
Dimensions:
Arm Chair (28in W x 26in D x 44in H) – SKU: 679-002A
Side Chair (24in W x 26in D x 44in H) – SKU: 679-002S
High-grade European fabric
Solid wood construction
Extensive hand-carved details
Note: Back design changed.  Please contact us for details.
You may also like…
Tapestry dining table in Mahogany finish with gold accent.  Table features round design with exquisite hand-carved base constructed from solid wood and veneer-inlay design.  Includes 1 x 18″ leaf for table extension.

Collection: Tapestry
SKU: 679-001L
Finish: Mahogany
Dimensions: 72in L x 54in W x 30in H (with 1 x 18″ leaves)
54in L x 54in W x 30in H (without leaves)

Veneer-inlay design
Solid hardwood construction
Extensive hand-carved details

Read more